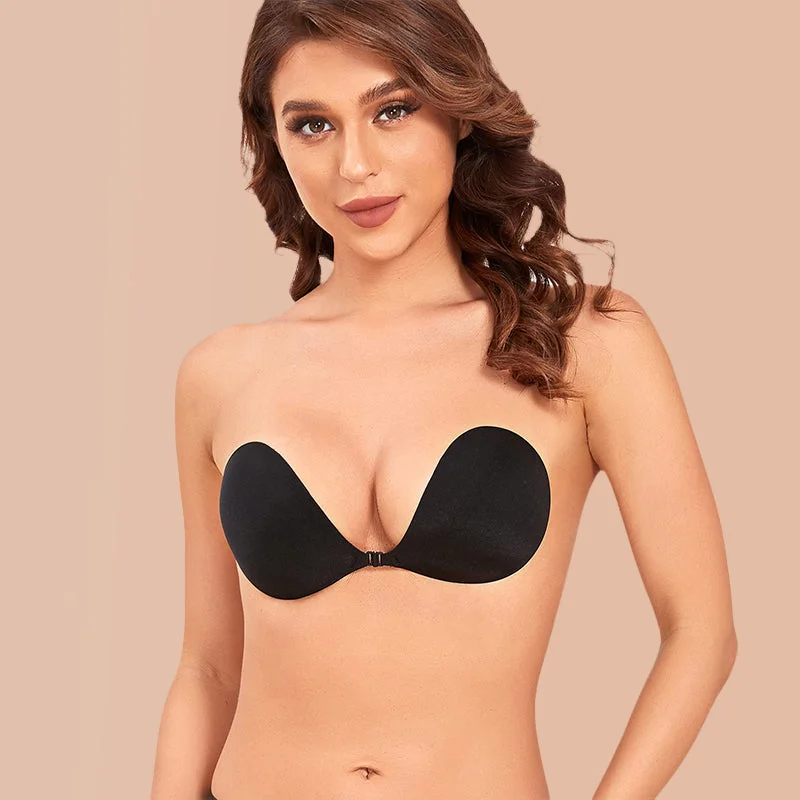 ${data.index + 1}/8
YOU NEED A STRAPLESS BRA AS THE WEATHER HEATS UP
Spring is finally in the air, which means cute sundresses and backless tops to let in that warm flowing breeze to thaw us out from the long winter. We get so excited to bust out our spring and summer wardrobe as soon as that air turns warm. We love all the florals and bright colors, not to mention the plunging necklines and beautiful backless pieces we've been dying to wear all winter.
INVISIBLE AND GATHERED EFFECTS
The 3D sticky bra stereo cup model for women; Ultra-fitted side and nude colored design, adhesive bras push up bra can be invisible under your clothes and lift your breasts to make it look fuller.
STRONG STICKY, SOFT AND SAFE MATERIAL
The invisible sticky push-up bra adopts cloth cup technology, which contains skin-friendly silicone, and the good stickiness will not cause any pain to the skin. The high-strength adhesive of the backless adhesive back bra keeps your breasts in a firm and comfortable position without worrying about falling off. 
EASY-CLEANING AND REUSABLE
This sticky bra can be reusable for many times. Simply wet the adhesive surface with warm water and then air dry. Then it will still keep the adhesive gels ready for your next use.
TIPS:
The push up sticky bras is not recommend for using in high temperature outdoors or during sports. 
Do not use moisturizers, perfumes, powders or any skin care products on the chest, as this will reduce the stickness.
【The material at the front of the cups may be puckered in transit.don`t worry .just stay within 2-3days ,they will be okay】
VARIOUS OCCASIONS
Sticky bra doesn't need to cover your whole breast,but can perfectly adaption to your curves. This Invisible bra is suitable for many occasions like daily wear, evening dress, wedding, slip dress, low cut dress, active wear, leisure, cocktail, night scene and party, etc.
WHAT CAN WE DO FOR YOU?
We make it easy for you!
We offer the classics—incuding Black, Nude, But we are committed to constantly creating new designs and colors to suit your tastes.
Try for 30 Days.
Thanks to our 30 Day Money Back Guarantee, simply return your order through the mail and earn a full refund to your method of payment.
The perfect gift for any Lady or Women!
Whether it's the holidays, a birthday, Mother's Day, we've got you covered! A great gift-giving option that even the most picky people in your life will LOVE.
HERE'S WHAT BELARMES®ADHESIVE BRA BACKLESS STRAPLESS REUSABLE STICKY INVISIBLE PUSH UP BRA FOR WOMEN
"Comfortable & Adjustable! Can barely tell it's on!
When your walking around you may expect that the twisting and turning of everyday activities will loosen it but it doesn't! I was impressed with the hold: this is the first bra like this that I ever tried. The bra itself is really soft and squishy.
— Hannah A.
The Difference is Clear
Choose   belarmes®
CUSTOMER QUESTIONS & ANSWERS
QUESTION:HOW CAN I KNOW MY SIZE?HOW TO MEASURE IT?
ANSWER:
Step 1,Measure your band size Place the measuring tape around your ribcage, right underneath the band of your bra.Make sure it is pulled tight but is not uncomfortable and that the tape is level.Make a note of how many inches you are.If you land on an even number this is your band size.If you land on an odd number, you'll want to round up or round down to the nearest even number based on your build.
Step 2,Measure your bust size Place the measuring tape around the fullest part of your bust(at nipple level),making sure to hold the measuring tape snugly against you and parallel to the ground. You won't need to pull the tape particularly tight for this measurement it just needs to sit flat.Make a note of how many inches you are.If it falls on the half-inch, just round up. That's your bust size!
Step 3,Determine Your Cup Size Minus your band size from your cup size and make a note of this value.This difference indicates your cup.Example: 37 inches (bust) – 34 inches (band) = 3 inches. That's a 34C. 0=AA , 1=A, 2=B, 3=C, 4=D, 5=DD(E),6=DDD(F), 7=G
QUESTION:WHERE ARE YOU LOCATED?/WHERE ARE THOSE BRAS SHIPPED FROM?
ANSWER:
We have warehouses located all over the world and the products are delivered from the warehouse nearest to the address provided.We currently offer shipping to the United States, Canada, United Kingdom and Australia.
QUESTION:WHAT WOULD BE THE SHIPPING COST?
ANSWER:
$6.99 for shipping fee.Free shipping for order over 49.99$.
QUESTION:HOW LONG DOES IT TAKE?
ANSWER:
It takes around 7-15days.
QUESTION:HOW TO WEAR?
ANSWER:
Step 1,Clean your chest with mild soap and water.
Step 2,Remove the protective film from the bra.
Step 3,Stand in front of the mirror , press and hold contour cups to skin for several moments to to adhere cups to skin, to place breasts comfortably into contour cups.
Step 4,Press gently over the outer surface of the bra cup with both hands for a few seconds to secure the hold.
QUESTION:HOW TO WASH?
ANSWER:
Always wash your bra after each wear to remove any body oil or other residues that may clog the surface of the adhesive. (DO NOT MACHINE WASH OR DRY)
Step 1,While holding one bra cup in the palm of your hand, wet the adhesive surface with warm water and add a small amount of mild soap. Gently use the palm of your other hand to create a circular motion to clean. (DO NOT USE YOUR FINGERNAILS, AS THIS CAN CAUSE A TEAR IN THE ADHESIVE.)
Step 2,Rinse the bra cup with warm water to remove all soap residue.
Step 3,Shake off all excess water then line &air dry DO NOT USE A TOWEL TO DRY.)
Step 4,When your Bra is completely dried, cover with original plastic. This will prevent dust and lint from gathering on the adhesive. The better you care for your Bra, the longer it will last.